We repair Flat Roofs around Manchester. We can carry out minor repairs or completely strip and re-felt the whole roof.
It's up to you and what you can afford. There may be good reason for you delaying a full refurbishment of your flat garage or dormer roof. We understand that people have commitments. Maybe a Wedding coming up or you might even be considering selling up and and moving on. Whatever the situation we are willing to come out at your convenience and inspect your leaking flat roof covering. We will come prepared, armed with a sheet to cover up the roof until you decide the situation or maybe the weather is unsuitable for us to carry out the roof repairs.
We are willing to come along and inspect your leaking flat roof. We can take pictures for you to look at if the roof covering is out of site or high up and not assesable. We will give you a written estimate and leave it with you to discuss with your partner or friend. We understand things like a leaking roof can at times seem daunting to some customers. We also don't want problems through rash decisions. We need to get paid at some point also.
Please read through our website. Lets see if we can help you.
Welcome to Roof Repairs Manchester
We carry out flat roof repairs around Manchester in Urmston, Davyhume and Flixton M42, Sale and Brooklands M33, Stretford M32, Eccles, Peel Green, Winton M30. We repair flat roofs in Walkden, Worsley and Boothstown M28, Trafford M16. We are a firm of well established roofers for our customers living around Chorlton-cum-Hardy M21, Tyldesley and Asttley in Manchester M29.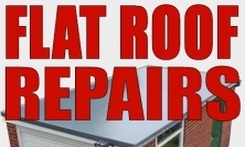 Terry Birtwell has been felting flat roofs since he was 17 years old. Now at 50 plus he keeps boasting he's done it for 25 years.
We know he can't add up but maybe like us he still wants to be 42 again. One thing for sure he can felt flat roofs.
From a flat dormer rooftop to that small garden shed or maybe it is a garage or kitchen extension roof that leaks. Let us take a look. See what we can do. We do a good job.

Free flat roof repair estimates

All types of leaking roofs cured

We guarantee our flat roofing work

We can call to look at your work
Our estimates are free of charge and we can call at your convenience. We work on weekends and after 5pm for those that work. We put all of our quotations in writing.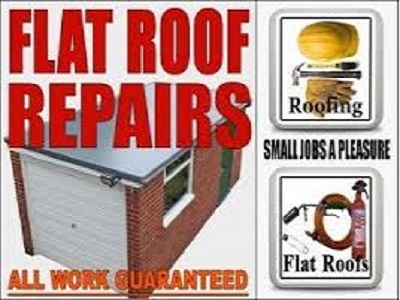 Flat Roofing in Manchester
This is what we do. Carry out quality felting of garages and dormer extensions.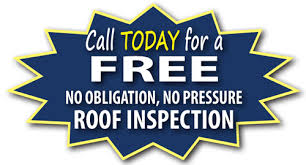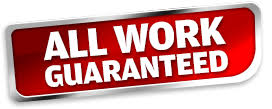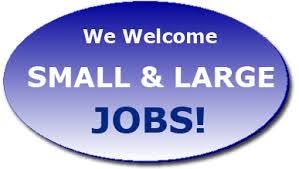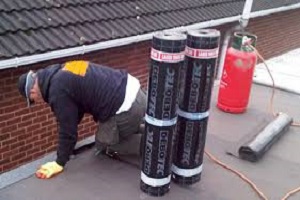 Garage roof repair inWorsley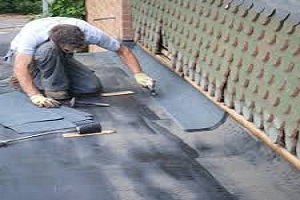 Flat extension roof repair Urmston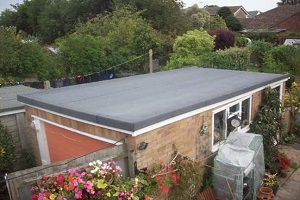 Garage Roof felted inStretford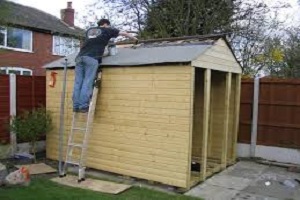 We felt garden shed roofs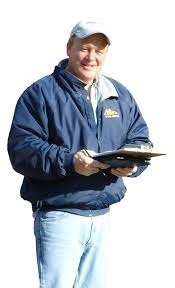 Terry Birtwell a local roof repairer from Manchester has over 25 years experience doing felt roof repair work in the area.

Insurance and Storm damage estimates given.
We do accidental property repairs on roofs
Meet our Terry. He has been a roof repairer since 1985
Over 25 years repairing rooftops and guttering that leak has taught our Terry a thing or two. He does a decent job at a fair price gaining the respect and trust from his band of satisfied customers.
From coming out and felting a garden shed roof to repairing a felted porch or small bay window which has started to leak because the local window cleaner stood on it damaging the felt top. He does it all.
Felting garage roofs or an extension lean-too and getting it back watertight for those wet winter months. Removing the boards that are sodden with water penetration over the attic rooftop, felting and then applying a very generous coat of solar reflective bituminous paint to stop the sun cracking it again,
Repairing the dislodged lead flashing at the base of a chimney and repairing the leak around the edge of a dormer rooftop adjoining the neighbours house next door. He does everything with a smile.
We us torch-on felts to redo our roofs
Small roof repairs a pleasure
No job is to small for us to attend to.
We don't charge for coming out to have a look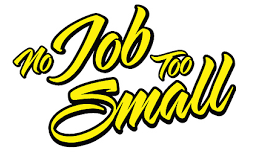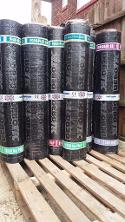 We buy our felts in bulk
We pass on the savings to our satisfied customers.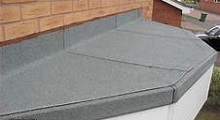 Bay window felted in Eccles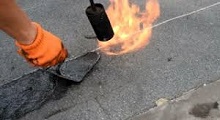 We use torch-on-felts to recover most of the flat roofs that we repair around the different areas of Manchester. It's clean, efficient and mess free. We sometimes miss the smell of the old bitumen boiler as it got heated up in the old days. We still use it from time to time when the occasion arises. There are always those jobs that come along that we have to avoid flames from our torches. The smell of the hot bitumen as we pitch and pour it brings back many memories from our youth. Old George Gibson the roofer from Levenshulme used to swear by it. He'd often grab a jacket and put it over his head and inhale the fumes while leaning over the hot bitumen pot. He used to tell us he'd never once had a cold in his entire life and he put it down to the fumes from the hot bitumen. Sadly George died in 2011 in a road traffic accident. He worked until he was 75 and was reputed to be one of Manchester best all round roofers. They use to always want George and George only to beat the lead or copper on the roofs of most of the Jewish synagogues in town. He was so good at beating cooper. He was a true tradesman and he taught us all so well. He had a saying '' If a jobs worth doing , do it well or not at all mate''. Way back in the 80's he used to frighten us all. If we got it wrong as apprentices he'd stand over us and watch until we got it right, and we did. George was 6''4 and built the same way. Up until his retirement he'd manage to carry 20 or so slates up a ladder. Used to say our modern bumper machines were too slow. We all liked George, God rest his soul. He taught us so well. All of our team are good at their particular skills as roofers but no one has ever come near to master all of the old tradesman's tricks George would teach us.
For your free roof repair estimate without obligation
0161 327 2919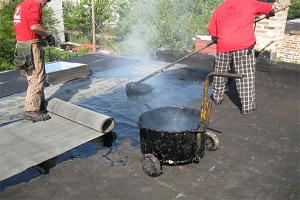 Hot bitumen pitch and pour method of felting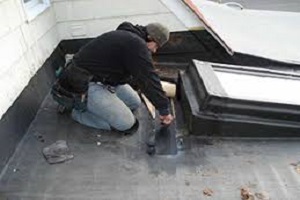 Sealing flashing around rooftop skylights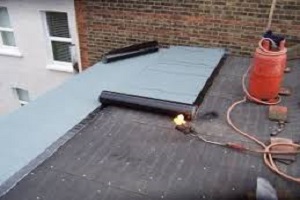 Modern day torch-on-felt roofing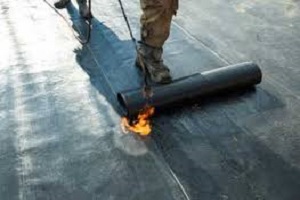 Applying the second layer of felt on a flat roof