We offer advice on cleaning gutters yourself on the understanding we do not take any liability for accidents of any kind.
Or for malpractices when carrying out repairs. It is always better to employ a competent roofer to carry out this kind of work.
Advice on cleaning and repairing gutters in general
IMPORTANT ADVICE: Before you carry out any repairs or maintenance work on your gutters make sure you are confident and not afraid of heights. Ask yourself do we need to maintain our guttering ourselves?
Guttering collect rainwater from your roof and directs it through the downspout and into the drain system. Damaged or blocked gutters can lead to damp penetrating into your property. It is therefore essential that the rainwater system is well looked after!
Safety first: Remember - Always think ahead. Using a ladder or a small scaffold may be required to carry out the tasks below. Ensure the ladder or scaffold is secured top and bottom and do not let it over stretch. If possible tie it with rope as you go.
Clearing a blocked gutter. When cleaning a gutter always work from the downspout outlet towards the stop end. This will prevent debris being pushed down the pipe. You can use a small trowel or a medium sized paint brush to carry out this task. You can check the gutters are flowing properly by pouring water into the gutter. A good way of checking for leaks is to fill a garden watering can or use a hose pipe if possible.
Repairing gutters. If water is collecting in the plastic gutter, the gutter might have sagged due to the extra weight. This may caused the brackets to work loose or break, resulting in the replacement of a few extra brackets or re-fixing the ones that have worked themselves loose. It may be possible to repair leaking plastic gutters by using a suitable building silicone at the connection with the outlet, joint or stop end. To undertake this repair it is necessary to unclip the fitting ensuring the rubber seal is dry before applying the silicone around the profile before re clipping the fitting back together. Before you considering this option it would be better to locate some spare gutter unions or seals from a local plumbers merchant or roofers yard. A good idea is to unclip a joint or union and take one with you. You will find there are many different kinds and makes of gutter on the market today.
Repairing of leaking wood gutters is possible but due to the water penetration of the timber, the timber may have decayed which would mean a replacement section is required. This task would not be recommended due to the weight of the saturated timber gutter. It can become very heavy. If the joint is leaking due to the defective lead joint then this may require sealing the area with some new suitable sealant then fix a new piece of lead or roofing flashband into the gutter after the defective joint is removed. It is very important the area is clean and dry prior to replacement.
Sealing and preserving timber gutters: We always pour a diluted mixture of solvent based bitumen sealant into a dry wooden gutter that leaks. We brush it well in helping to preserve it for years. If a timber gutter is wet or damp it will not seal with solvents. It does not stick or adhere. First apply a thin coating of a water based preservative. Ordinary water based fence preservative is good enough for this type of primer coat. Next day or when dry after an hour or so in good summer weather you can then apply the final top coat of diluted solvent bituminous paint. For this purpose ordinary solvent based paint will not last. It forms a skin and cracks. A repair with diluted bituminous paint should stand up for a number of years. You can thin it with a small amount of turps or white spirit. Remember water does not mix with oil based paints.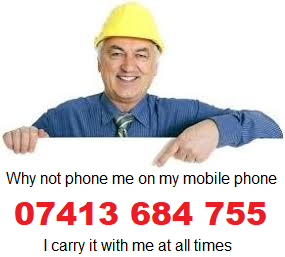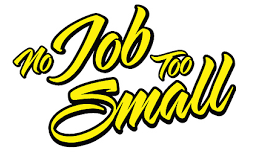 We carry out all types of small repairs
We work all over Manchester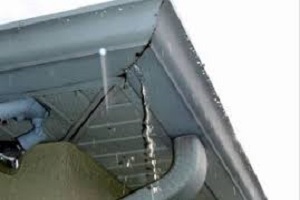 Leaking corner on Aluminium Gutters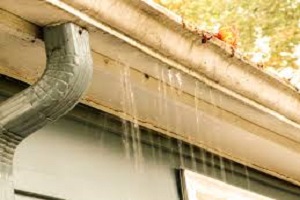 Leaking gutters need repairs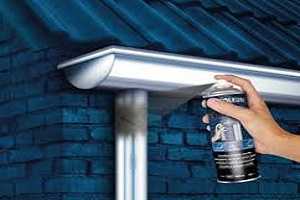 Painting outside with car spray
To repair this type of faulty Aluminium gutters.
First clean and dry out the surfaces inside and out. Drill a few holes at the top of the gutters on both sides of the corner to accommodate some adequate sized screws then lift it up level and screw it in site. Apply some plumbers mate sealant along the joints inside and out and leave to set. Smooth over to seal the joints. Apply a coat of diluted bituminous sealant to the inside and the outside when dry. We then often spray liberally the outer surface edge with a car renovation car paint bought from the local pound shop. It is better to paint the outside surface of aluminium guttering with Hammerite smooth metal paint. This is a cellulose based paint used for metal. The inside of the gutter can be preserved using well diluted coats of grey bituminous paint. Aluminium has a tendency to pit and leak over time. Grey is not effected as much by the Suns heat and rays.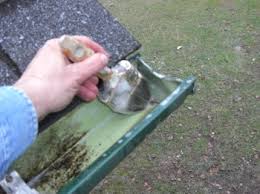 If this type of gutter repair is not for you . . . .
Telephone Manchester Roof Repairs: 0161 327 2919
© Copyright Roof Repairs Manchester